News
COVID-19: Tens of thousands of people demonstrate in France against the restrictions planned by Emmanuel Macron on coronaviruses | World news
Heavy rain rarely bodes well for a large turnout, but in the French capital on Saturday tens of thousands defied the weather and took to the streets to express their anger and opposition to the latest restrictions the government wants. put in place to combat the spread of COVID.
All over town you heard chants of "freedom", demands for freedom – the freedom to choose whether or not to be vaccinated. And demands not to be penalized if you choose no.
Simply put, the government plans to ban anyone who is not fully vaccinated from places like bars and restaurants.
Proof of a negative COVID the test will not be sufficient as it is now and this has caused outrage from many.
France could reach peak of new coronavirus wave in 10 days, health officials warn
Among the thousands of people parading, we meet Ava Pezzino, a young French girl. She does not wear a mask although it is mandatory to do so outdoors in Paris.
She tells us, "It's crazy. You can't separate people. You can't penalize people."
Nearby and next to a sign that read 'Apartheid' – a form that many people on the march claim the bill would create – we meet Richard Hallocou.
He had to be vaccinated because of his job and he is not happy with it.
He is furious that the government wants to treat the unvaccinated differently.
"We had to come because we don't agree with it. We are telling our politicians to stop this. No," he said.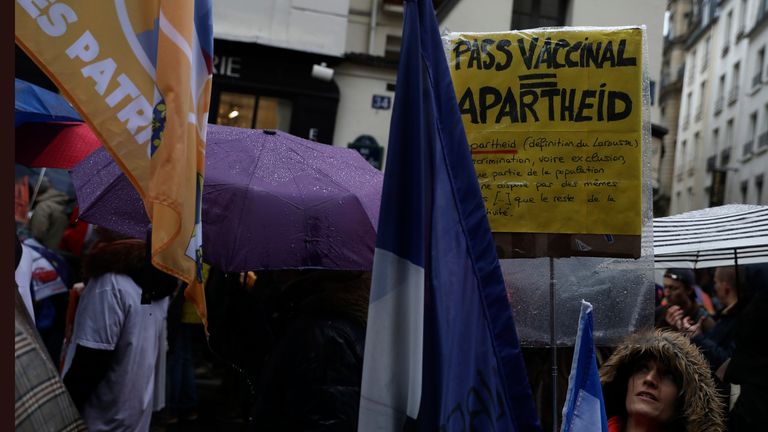 He calls the language used by Emmanuel Macron this "disgusting" week when the president spoke about making life difficult for the unvaccinated.
The French President declared he wanted "p *** off" those who refuse to get stung.
And in the crowd, posters return Macron's words to him.
Make life difficult for us and we will make life difficult for you.
And that to a president facing an election in a few months.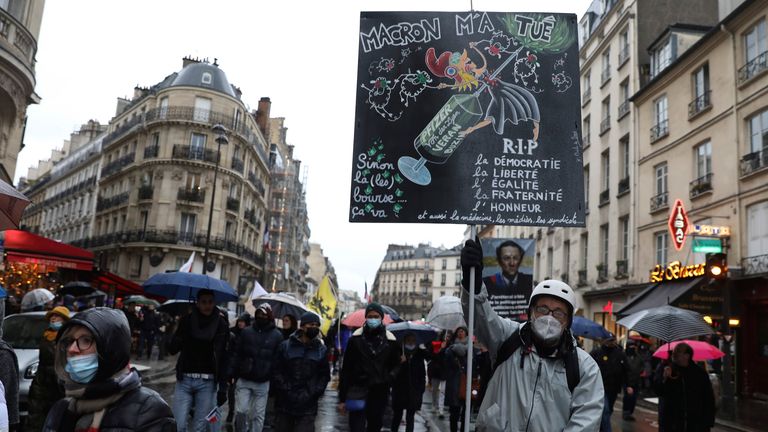 The scene in Paris has been replicated in cities across France. The strength of sentiment among those who oppose the bill is increasing.
The overwhelming majority of the population demonstrated peacefully, but there were some clashes with the police.
And worryingly, dozens of MPs who support Macron's plans have received death threats.
Outside Carole Bureau-Bonnard's constituency office, it is still possible to see traces of graffiti that have been repainted on the facade of the building.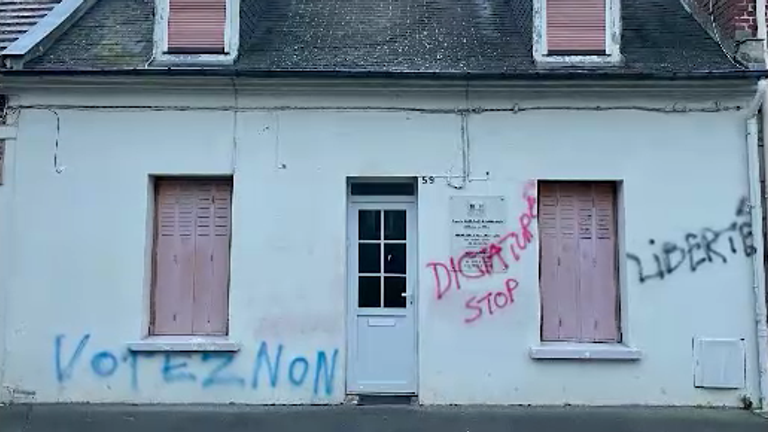 The process had to be repeated several times. And she and her family have been personally threatened.
She tells us: "Lots of emails with the headline 'We're going to kill you'. Threats of beheading, and stabbing."
"They said 'We are bullet makers, so the next bullet that lands you will come from here.' And then I also received threats at my home, mentioning other acts of vandalism.
"It has now grown and the fact that we were threatened in our house. And we were also shot, in an envelope sent to our home."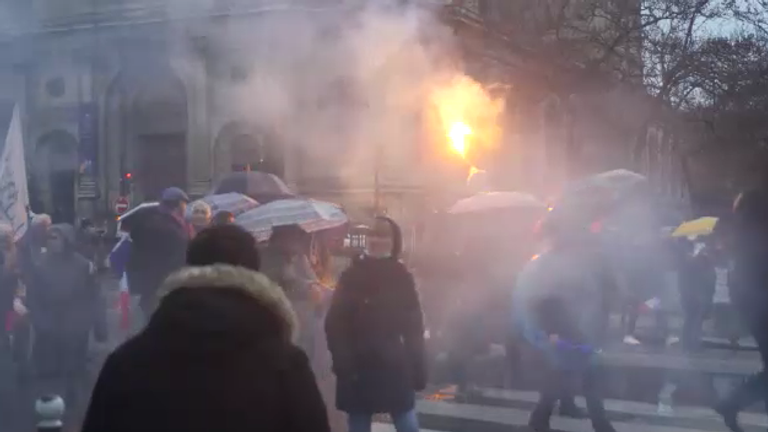 She calls the threats "worrying" but insists the legislation will make a difference and hopefully encourage more people to get bitten.
And the fact is that around 90% of French people have chosen the route of vaccination.
Many of them are totally overdue in requiring proof of vaccination, known as health cards, to access bars and restaurants.
But the voices of those who reject vaccination, and those who reject different treatment for those who say no, are strong and likely to grow if the legislation is passed.